Digital Solutions for Western Crown
and Bridge Dental Laboratory
Western Crown and Bridge are pleased to announce the introduction of the 3Shape Dental System™. This will compliment our existing nobelbiocare system and allow us to offer a greater range of products.
The 3Shape Dental System represents the market's most complete system for dental CAD/CAM, providing highly flexible solutions for all major dental indications. Now at Western Crown and Bridge with the latest in digital technology combined with the expertise of highly specialised technicians the solution offering has been greatly expanded.
3Shape Dental System from Dental Axess:
Western Crown and Bridge will be installing the most advanced 3D scanning technology; 3Shape D800. This is no-limitations device, providing high productivity, high accuracy, and a complete sophisticated range of dental design tools allowing for reliable digital workflows.
Features of the system will provide:
Accurate scanning of either gypsum models or impressions
Texture Scanning technology for high detail detection and capture of hand drawn design markings on the model
Digital design for wide range of dental indications from crown and bridge through to implant abutments, bars and bridges and removable partial design.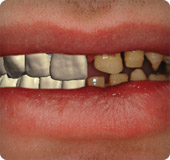 Dynamic virtual articulation as an integrated part of the digital design. This tool links the virtual world with its equivalent physical procedure.
Interactive user friendly communication tool between the laboratory and the dental clinic. The 3Shape Communicate tool will allow the laboratory and the dental clinic share case information and view 3D designs on-line. The clinic can also present before-and-after visualizations or restorations for their patients.
Access to a full product and solution portfolio
Product and Solution Portfolio
Western Crown and Bridge through the 3Shape Dental System can now access manufacturing facilities supporting a wide range of materials and products. These include:
Full contour high translucent monolithic zirconia crowns
3M ESPE Lava™ Zirconia, Lava Ultimate and Lava Plus
Milled and Pressed IPS e.max
Full range of implant retained solutions for single abutments through to implant bars, bridges and over dentures.
Biomet 3i™ Laboratory Designed Abutments
Unique angled screw access channels for implant retained bridges for the major implant systems in the market with I-Bridge 2®
Temporary solutions for restorations on natural teeth or on implants made from highly durable and stable PMMA
Copings for veneered crown and bridge from zirconia, titanium, non-precious alloy and non-precious gold.
Inlays onlays and veneers can be designed and manufactured in a full range of materials.
Resin and wax printing facilities supporting digital design workflows and are used for the manufacturing of removable partials and conventional crown and bridge.
We look forward to continue supporting you by providing a full service dental laboratory for your patient's needs and requirements.
Call us today to discuss our services or if you would like to view the 3Shape Dental System on 09 846 8886