Crowns
P.F.M.
Porcelain fused to metal dental crowns is one of dentistry's primary restorations of choice because, when properly constructed and seated, they are strong, reliable and aesthetic and a good choice for front and back teeth.
Full arch PFM crowns
Before
After
Gold Crowns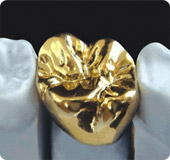 Gold is the most biocompatible non-toxic material used in dentistry today. It is non-corrosive and hypo-allergenic. Gold's wear rates and coefficient of thermal expansion is very similar to enamel, and thus achieves a better natural fit. Gold margins do not break or chip even when thinned and polished. As mentioned before, less tooth structure is removed when preparing teeth for gold, which leaves the tooth stronger and healthier.
The greatest advantage of using gold is its longevity, which can actually make it less costly in the long run. Gold easily outlasts other materials three to five times longer. When describing other materials, dentists talk in terms of years of service. When talking about gold, we speak in terms of decades of service. This idea is not lost on discerning patients and it is a huge motivating factor for them to select gold.
Zirconia
All zirconia is a monolithic solid zirconia restoration with no porcelain overlay. More brawn than beauty, you'll be impressed by the aesthetics of zirconia when prescribed instead of posterior metal occlusal PFMs and full-cast metal restorations. All Zirconia is virtually chip proof, making it a good choice for bruxers.
All Zirconia crowns can be prepared just like conventional PFM crowns using either a butt shoulder, a chamfer, or a knife-edge finish line. All Zirconia crowns may be fabricated with as little as 0.5mm of occlusal reduction, and most importantly, they can be cemented using your choice of favourite conventional cement.
We are able to provide all zirconia crowns and bridges from a variety of suppliers including the Lava plus system and BruxZir.
Procera Alumina
Procera Alumina offers a proven all-ceramic restoration that combines the vital, translucent aesthetics of an all-ceramic with the strength and durability of a PFM. Procera® - the original aluminium oxide core of 687 MPa's of flexural strength.
Procera Alumina is composed of densely sintered high-purity aluminium oxide that is available in two layers of thickness 0.4mm for anteriors and 0.6mm for posteriors.
Indications Procera Alumina – single crowns and anterior bridges (bicuspid forward)
IPS e.max®
IPS e.max is a lithium disilicate glass ceramic that has optimized translucency, durability and strength for full anatomical restorations. Due to the use of new technologies and optimized processing parameters, IPS e.max lithium disilicate has evolved beyond previously available lithium disilicate ceramics.
IPS e.max lithium disilicate restorations exhibit superior durability featuring 360-400 MPa of flexural strength. When fabricated to full-contour, the monolithic structure is the most robust ceramic system tested to date. The opalescence, translucency and light diffusion properties of IPS e.max lithium disilicate were all designed to replicate natural tooth structure for beauty and undetectable restorations.